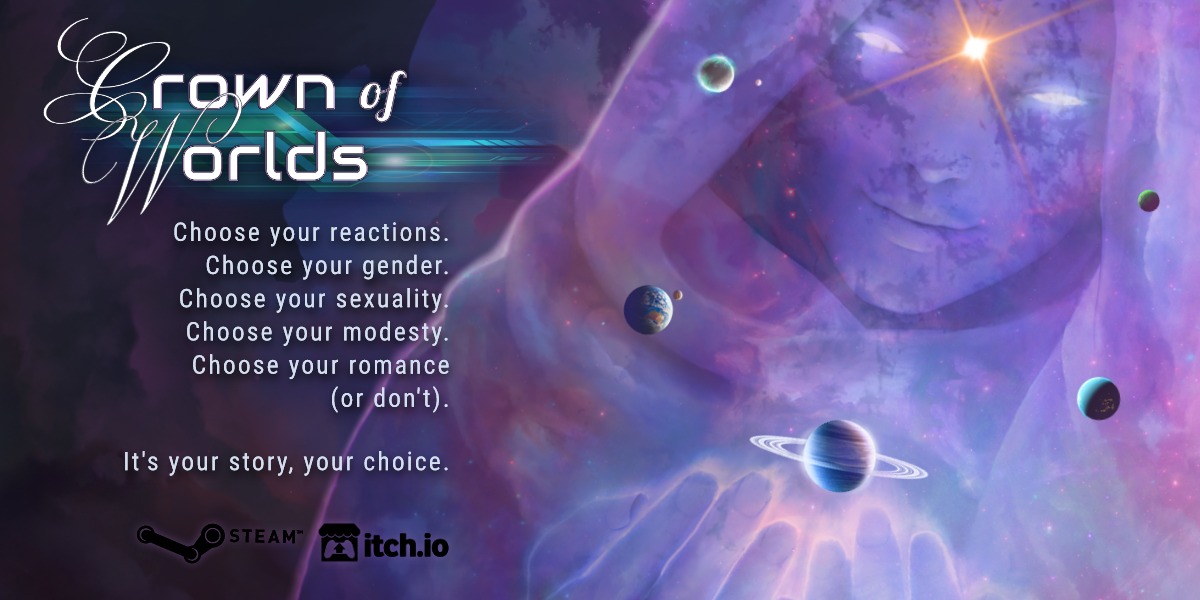 Crown of Worlds
Crown of Worlds is fully funded!
---

Hello everyone,
I'd like to express my sincerest gratitude on behalf of Prismatech Media Arts. There's a lot of uncertainty, negativity, and hate out there. Sometimes I feel like I must become bitter and distrustful to protect myself. But art has always provided me with the tools to process the joys and sorrows of this world—a safe place in which to survive them. Along those lines, I wanted to give something back to the community. I want your day to be a little brighter, and your heart a little warmer, after viewing our content.
Enter Prismatech Media Arts. It isn't easy being indie, especially at first, but we are committed to bringing you some amazing, original content that celebrates intersectional diversity and combines our three most favorite art forms: words, music, and visual arts.
With those thoughts in mind, I am pleased to announce that Prismatech Media Arts has secured full funding for our debut title, Crown of Worlds! We are so fortunate to have a patron who believes in our skills, dedication…and of course, the story itself.
We are moving forward next month with all new art and an original soundtrack for the visual novel. It will release in 2020 or sooner, all at once.
Please look forward to sneak peeks of the aesthetics and writing! Because of the design changes, we are removing the pilot demo from itch and steam. We have also removed the prologue from Wattpad, pending possible changes to the transcript.
A new demo, featuring the free prologue in its final form, will be uploaded in 2019.
Please continue to support us as we get our butts in gear. No holiday vacations for us! Well…I might be forced take a few days off for New Year's. CoW's characters are animals at parties, and I'm dreading the noise levels inside my head.
Jovially,
Lydia Rivers
Creator/Author
Creative Director